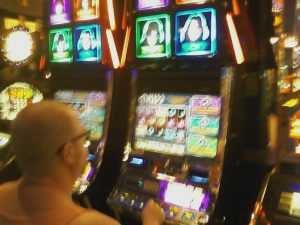 When you are tired of working out the rules of casino games, coming up with tactics, trying out different strategies, and figuring out your opponent's hand, the best way to relax and win money is to play slots. There is a huge online casino offer and nice bonuses for new sign-ups. Slots are like video games – you can have hours of fun while enjoying fantastic graphics, exciting themes and amazing characters. There are slot machine themes for literally everyone's taste such as sports, food, animals, the Wild West, Egypt, Asia. For those who are more daring, we present some slots that can send a chill down your spine.
iSoftbet Paranormal Activity Slot is based on the horror movie of the same name from 2007. It consists of 5 reels coupled with the original movie graphics and creepy sound effects. Bloodstained hands, Ouija boards and ghastly characters will definitely give you the creeps but the chance to get a cash prize or hit some of the three bonus features will give you the courage to keep on. The paranormal spins will give you unlimited free spins, the possessed spins offer extra stacked wilds and the demon spins bring random extra wilds.
NetEnt Aliens Slot recreates the chilling atmosphere of the eponymous horror movie from 1986. You will have to kill aliens to advance through the three levels of the game: the Search, the Encounter and the Hive. Every spin brings Ammo Clips depicted on the Ammo Clip Counter which enable you to kill the attacking aliens. As long as you have Ammo Clips you are safe and a re-spin is granted, but if you use up all of your Ammo Clips the aliens will kill you and you'll return to level 1. If you survive to level 3, you will have a chance to kill the Queen Alien and her hive and win a bonus of 240 times your bet. You'd better be like Ripley to land amazing bonuses, free spins and a great amount of money.
NetEnt Blood Suckers is another spooky slot featuring 5 reels and 25 paylines inspired by the cult of vampires. The gothic atmosphere, eerie sounds, blood-thirsty vampires and mysterious castles may make your blood turn cold, but the possibility to win great cash rewards and find wild symbols and free spins that can triple your winnings will keep you thrilled to death. If you trigger the bonus game that takes you to a burial chamber where you open coffins and slay vampires, you will have a chance to win extra coins for every vampire that you slay. If this horror game gets you excited, you should also try Bloodsuckers II which features even scarier blood-sucking creatures and many more free spins, bonuses and fantastic payouts.   
Casino movies have always been a place for entertainment. In the past, gambling represented a social status symbol of a kind. There were several reasons explaining the phenomenon. Firstly, huge amounts of money were at stake. Sometimes even households and estates could become an object of gambling. People who had nothing else to lose sometimes gambled on their unmarried daughters. For that reason, people who could afford to attend some gambling games parties usually belonged to aristocratic, upper-class society. Therefore, to the middle and lower class, the upper-class parties were always unreachable and sometimes even seemed mysterious.
Due to the mystery that often revolved around the aristocratic society, their houses, parties and activities, the mystery was extended to their games. The mystery has remained ever since and the casinos have always been regarded as special.
Nowadays, casinos are believed to be unreachable. The middle class is amazed and afraid at the same time by the people who attend casinos every day in their elegant dresses and tuxedos. In the places like Monaco, Cannes, Nice and others, the glamour is felt in the air. Glamour, expensive life, and mystery is what attracts millions across the world. Of course, one could play slot machine games online and have a sort-of-a-casino feeling, but it's something quite else going to a real-life one. This along with many other reasons makes casinos popular movie topics. 
Movie topics that include casinos and that seem to be very popular are gambling movies, action movies, detective movies, and paranormal movies.
In the following paragraph, we will describe the most popular paranormal movie, The Dead Man's Hand from 2007 widely known as The Haunted Casino.
THE DEAD MAN'S HAND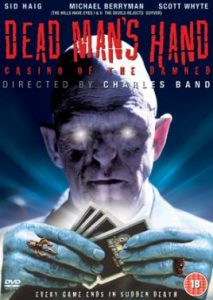 The Dead Man's Hand or The Haunted Casino is a movie from 2007 directed by Charles Band.
Charles Band is an American movie producer and director. He is famous for his work on horror comedy movies. His most famous movies belong to Puppet Master franchise which is made by Full Moon Features. In addition, he is famous for Subspecies series, also made by Full Moon Features. In 2007 he directed The Dead Man's Hand.
The movie, the Dead Man's Hand, stars Sig Haig and Michael Berryman. The two pair up in this haunted house creepy tale playing ghosts of Vegas criminal and his henchman. The two terrorize a group of friend who are staying at a gambling house.
The story starts with Matthew Dragna who inherits an old casino from his late uncle, Matthew. He, JJ (his girlfriend) and a few other friends go to the casino to see the place and have some fun. However, the casino is haunted by two angry ghosts: a vicious Vegas mobster called Roy Donahue, and Gil Wachetta, his lethal partner. The story revolves around their stay in the casino through the night, and the question that is raised is whether they will survive the night at all.
The Dead Man's Hand uses the casino as the centre of the story while it examines the motif of a haunted house and mystery that revolves around gambling and casinos.
The IMDB audience scored the movie with a 4.2. Nevertheless, we recommend the movie to casino and horror lovers.
[Top]
In the age of reason, it is very difficult to believe in the world beyond. Ghosts and other apparitions invisible to the human eye are very hard to believe in. Nevertheless, there are some people who believe in ghosts. Those who are not afraid to share it with the world call themselves the medium, while others are ordinary people who have or believe to have experienced ghost stories in person.
Whether or not the world beyond exists along with ghosts and other creatures that wander the realm beyond the world we know, there are the so-called paranormal stories retold many times which make us doubt our own disbelief.
In the following paragraphs, the top three most frightening paranormal stories people say to have experienced will we explored and discussed.
THE HUNTED AMBULANCE
A woman working for an ambulance company told a story about the haunted ambulance, rig 12. While she was working for a famous ambulance company, she was told of the haunted ambulance by her colleagues – rig 12.
It was 3 a.m. and it was very dark and quiet outside. While she was sleeping in the driver's seat with her colleague right beside her, they were woken up by a male voice followed by some heavy breathing. A click of an oxygen bottle was heard as if it was leaking. They thought somebody entered the ambulance while they were sleeping. However, once they open the rear doors, they realized nobody was in there, and no oxygen bottle was opened. Was the ambulance really haunted or their fear reached out?
BILLY THE MENACE
A woman and her friend Diane were next door neighbours. For years some strange things happened in her house. For example, when she would get home, things were put in weird places, laundry detergent would be in the bathtub or even fridge.
However, one day when she got really sick and tired of finding things all around the house, she told the ghost, now named Billy, to go to her friend's place, and the ghost stopped moving things around her house. Diane, on the other hand, couldn't find her things.
Even though nobody believed the story, the two friends did. And not until they moved from the street could they find their things. Well, if it wasn't for Billy, who played the mischievous game on them?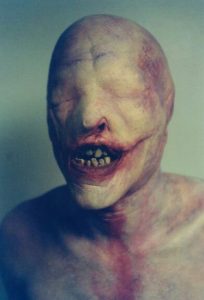 15 years ago, a boy named John, aged 10, was sleeping in his room tightly. While he was sleeping, somebody woke him up. Somebody was sitting on his back pulling his leg to wake up. Having thought it was his mom or dad, since he was an only child, he turned around and opened his eyes. To his surprise, there was a boy sitting there with a box in his hand. He asked the boy for his name. However, once the strange boy turned around, John saw that the boy had no eyes. The little boy told John he was lost and could not find his mommy. John was very afraid, woke up, and changed the room next day. 15 years later his daughter was sleeping in the same room. One night, she woke up and asked her father about an eyeless boy looking for his mom. Coincidence?
Whether you believe in the stories or not, you do feel chills through your body, don't you? Is it possible the stories are true or those are stories?
[Top]