Paranormal-themed slot machines for paranormal wins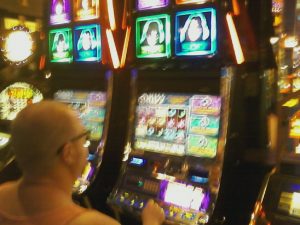 When you are tired of working out the rules of casino games, coming up with tactics, trying out different strategies, and figuring out your opponent's hand, the best way to relax and win money is to play slots. There is a huge online casino offer and nice bonuses for new sign-ups. Slots are like video games – you can have hours of fun while enjoying fantastic graphics, exciting themes and amazing characters. There are slot machine themes for literally everyone's taste such as sports, food, animals, the Wild West, Egypt, Asia. For those who are more daring, we present some slots that can send a chill down your spine.
iSoftbet Paranormal Activity Slot is based on the horror movie of the same name from 2007. It consists of 5 reels coupled with the original movie graphics and creepy sound effects. Bloodstained hands, Ouija boards and ghastly characters will definitely give you the creeps but the chance to get a cash prize or hit some of the three bonus features will give you the courage to keep on. The paranormal spins will give you unlimited free spins, the possessed spins offer extra stacked wilds and the demon spins bring random extra wilds.
NetEnt Aliens Slot recreates the chilling atmosphere of the eponymous horror movie from 1986. You will have to kill aliens to advance through the three levels of the game: the Search, the Encounter and the Hive. Every spin brings Ammo Clips depicted on the Ammo Clip Counter which enable you to kill the attacking aliens. As long as you have Ammo Clips you are safe and a re-spin is granted, but if you use up all of your Ammo Clips the aliens will kill you and you'll return to level 1. If you survive to level 3, you will have a chance to kill the Queen Alien and her hive and win a bonus of 240 times your bet. You'd better be like Ripley to land amazing bonuses, free spins and a great amount of money.
NetEnt Blood Suckers is another spooky slot featuring 5 reels and 25 paylines inspired by the cult of vampires. The gothic atmosphere, eerie sounds, blood-thirsty vampires and mysterious castles may make your blood turn cold, but the possibility to win great cash rewards and find wild symbols and free spins that can triple your winnings will keep you thrilled to death. If you trigger the bonus game that takes you to a burial chamber where you open coffins and slay vampires, you will have a chance to win extra coins for every vampire that you slay. If this horror game gets you excited, you should also try Bloodsuckers II which features even scarier blood-sucking creatures and many more free spins, bonuses and fantastic payouts.